DDoS Protection
Tried and true protection to keep your business online during an attack.
Always Online DDoS Protection
We have implemented the best anti-DDoS technology powered by Corero to combat these attacks. Every 10gbps port we have coming into our edge is first passed through a Corero Smartwall Appliance, capable of filtering well past a 10gbps line rate attack. This ensures all traffic is completely scrubbed before it even hits our network!
Instant DDoS Mitigation
Because our solution is in-line, we are able to provide realtime protection for any application, and literally instant mitigation.
Reliable Protection
By utilizing the best technology in DDoS, our protection is second to none. We offer true, in-line DDoS mitigation powered by dedicated Corero Smartwall Appliances.
No Downtime, Ever.
Having an on-premise mitigation solution means our protection is always turned on, and always filtering 24/7/365 with no manual intervention needed!
Compare DDoS Protection
In terms of reliability and speed, there is no competition.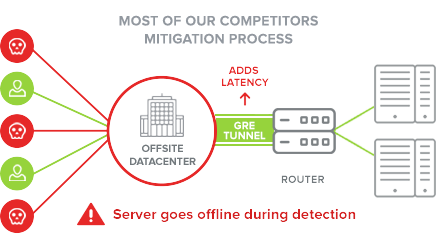 Competitors high latency DDoS protection technology
Most DDoS mitigation providers use a standard configuration where they do not start filtering unless they see an attack. This always results in a brief to extended period of time where your servers are unprotected and vulnerable. We call this a "detection period". After they detect an attack, traffic is then re-routed for mitigation, resulting in downtime in almost every scenario.
Dedicated.com Always-On & In-Line DDoS protection technology
Our method solves the present issues of standard mitigation. Because every uplink we have runs through a DDoS mitigation appliance before our edge, all attacks are filtered completely before they hit our network! This completely eliminates the "detection period" where servers traditionally are impacted by standard DDoS protection.
DDoS Pricing
DDoS Solutions
Specifications
Costs
Free Protection

10 Gigabits Per Second
30 Million Packets Per Second
6 Hour Null-Route

FREE

Can never go wrong with free DDoS protection.

Premium Protection

40 Gigabits Per Second
120 Million Packets Per Second
1 Hour Null-Route

$50.00

/mo

$250.00/month per /24 IP Block Allocation
Are you under attack now?
Don't wait any longer! You could be costing your business thousands.
Get Protected Today
What in the world is a DDoS attack and why do I need protection?
DDoS is a type of DOS attack where multiple compromised systems, which are often infected with a Trojan, are used to target a single system causing a Denial of Service (DoS) attack. The primary purpose is to bring your system offline, or cripple your defense systems. All of our services come with Always-On DDoS protection - attacks will be filtered instantly and you won't feel a thing!
Why should I care and how does it affect me?
When hackers or cybercriminals launch a Distributed Denial of Service (DDoS) attack, the damage – and the costs – can be devastating for the business that's being targeted, resulting in downtime, slow site performance, and even crippling systems for hackers to get in.